The Log Cabin Journal. Journal Entry 1.
The Log Cabin Dream
Somewhere on a secluded mountain in Eastern Canada, my father in law and his brothers built a log cabin which overlooked a splendid harbour. Replete with fine workmanship, the cabin seemed to beg for human visitors to light its wood stove and echo its' wall with laughter. And on many weekends the brother's laughter did echo the cabin walls, and the wood stove was lit, and the snow fell, and the whiskey was poured and the deer, moose and bears ate the apples from the orchard which was in plain view from the overhanging deck and loft window. And when the celebrations were over and brothers departed, the cabin seem to whisper, "Donnie, Raymond, Jackie, where did you go. Don't you know I miss you".
Few have ever seen this secluded cabin but there was a lasting impression on the ones who did. My wife and I were no exception. Inspired, we set out to build a cabin of our own. In 1990 the cabin planning began but starting a family became our priority so the building of the log cabin was put on the back burner. Like the cabin on the mountain, time silently passes. Now, twenty-eight years later, with our children grown and the pain of being an empty nester behind us, we once again turned our attention to our log cabin dream.
Choosing a site for my log cabin.
May 15, 2018 – Today, the warm springs air brought a flood of thoughts about building our cabin. Excited about finding a site I set out with GPS in hand. As I explore the local secluded forest, I summons my metal checklist for site features I think are important. Maybe it will sit high on a hill with a commanding view or perhaps the site will have a more intimate essence like perched on a bank of a babbling brook. Whatever I choose it must to be fitting for a secluded log cabin theme.
Also on this checklist is the site's resources. Resources include southern exposure, water, and an abundance of spruce, cedar or pines. Although the later is important I have a tractor with a logging winch and trailer so harvesting and moving the logs to the site is not a show stopper.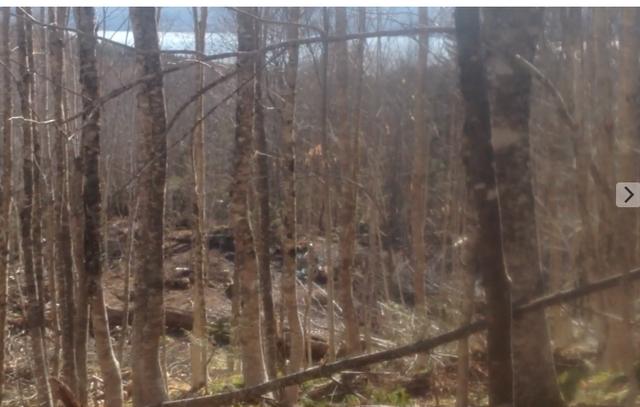 I stumbled upon a very unique location. Diagram above… It is bizarre in this extremely rugged terrain and so high on a mountain to have a flat area 100 feet by 400 feet. There is spring outflow yet the ground is not a boggy, but firm and rocky. From high on the mountain it sports a nice long range view of a harbour. On the down side there is no logs worthy of a cabin unless I use hardwood. I prefer to use spruce, cedar or pine as they are lighter and more durable. I marked this location on my GPS but will continue my search. There is to much work to build a log cabin not to get the right site.